Looking for a home addition near Appleton?
Adding On Adds Enjoyment
Home additions can take on many shapes and sizes. We can handle them all. Many times a family wants a new great room for big gatherings. Other times a couple bedrooms, or a new master, the possibilities are endless. It is important to keep the original design of your house in mind when you perform a home addition. Our goal when designing and building an addition to your home or business is to make it look like it has always been there. We offer our services to the greater Appleton, WI area.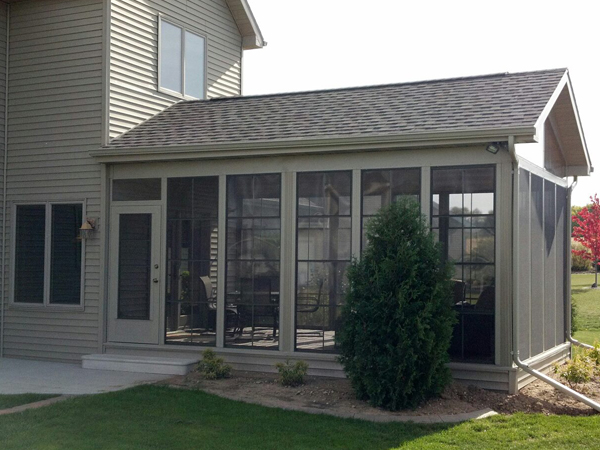 Sunroom Additions
Sometimes you just want a chance to brighten up the home and shower the new space with natural light. A sunroom is a fantastic option. Bright and airy, they provide a retreat from the norm. Stress feels lighter and worries fade away. Do yourself a favor and let's build your special place in the form of a home addition.
Home addition Considerations
Site Prep - What location, what needs removal, what needs to be moved
Foundation - What will the addition sit on
Exterior - Match the existing or set it apart
Interior - Sunroom means higher window cost vs. normal space. Adding plumbing also bumps the budget up
Size - Just remember, bigger isn't always better. Don't try to overbuild and not leave proper space for fine finishings
Landscaping - A new home addition means yard damage, figure on repairing/replacing the lawn
Value - Home additions increase your overall space, and done right can greatly improve value as well
Get a great home addition
If you want to add on around the Appleton area, give us a call. We would love to hear your ideas and let you know how we can help. Estimates are always free and we are fully licensed and insured. Your dream space is just a click away. Let's build it together.